The "Hi-5 High Impact Literacy Award" will be granted annually to an organization in the NewAlliance Foundation service area that embodies the five attributes the Foundation wishes to honor in the field of literacy: vision, responsiveness, innovation, spirit and results.
2016 "Hi-5" Awardee
SAINT MARTIN DE PORRES ACADEMY

On Tuesday, May 3rd, NewAlliance Foundation Executive Director, Kim Healey, Managing Director, Maryann Ott unexpectedly burst into a Saint Martin de Porres Academy board meeting with a check for $20,000 and the news that they were the 2016 recipients of the NewAlliance Foundation "Hi-5 High Impact Literacy Award".
Saint Martin de Porres Academy is a faith-based, middle school that provides a tuition-free, extended day education for underserved girls and boys from low-income families in the New Haven area. They were selected to receive this unsolicited grant award to support their English Language Arts Curriculum.
The English Language Arts Curriculum primarily targets the development of literacy in the grades 5-8 curriculum and is committed to enabling all students to become life-long readers, writers, listeners and speakers. The overall goal of the reading and literature curriculum is to provide opportunities for students to engage in purposeful reading. Through this process, students enhance comprehension skills to read, and make increasingly sophisticated inferences and connections over a variety of texts. They experience diverse genre including the novel, poetry, short story, drama, and non-fiction. By the end of 8th grade, students are able to read a variety of texts fluently and are able to analyze thematic, literary and structural elements.
Because the single best predictor of reading achievement is the amount of time spent reading, the curriculum provides opportunities for students to select and read a variety of books. To facilitate opportunities for students to engage in meaningful reading, each grade maintains a reading workshop two to three days per week.
In the writer's workshop, students write for a variety of purposes and audiences, and in doing so, learn the craft and conventions of writing. Teachers provide strategies for students to learn both English language conventions and expressive vocabulary. At the same time, students devise strategies to support pre-writing, composition, editing and final copy.
At the end of 8th grade, students are expected to be able to demonstrate proficiency in a variety of writing formats. They can construct a fluent five-paragraph persuasive essay when given a prompt, which includes a well-developed thesis, three support paragraphs, and a summary paragraph. Essays demonstrate master of spelling and grammar conventions.
NewAlliance Foundation is proud to recognize the English Language Arts Curriculum at Saint Martin de Porres Academy with the 2016 "Hi-5 High Impact Literacy Award". The vision, responsiveness, innovation, spirit and results of their literacy program deserve high recognition and praise.
Learn more about Saint Martin de Porres Academy here: http://www.saintmartinacademy.org
2015 "Hi-5" Awardee
NEW HAVEN READS
NewAlliance Foundation Executive Director, Kim Healey, Associate Director, Maryann Ott, and board member, Margie Gillis, surprised New Haven Reads at their May Board Meeting with the announcement, along with a check for $25,000, with news that they are the 2015 recipients of the NewAlliance Foundation "Hi-5 High Impact Literacy Award".
New Haven Reads was selected to receive this unsolicited grant award, because of their volunteer-based one-on-one tutoring programs, their "open to all" Book Bank, and their track record of effective family support initiatives.
The mission of New Haven Reads, which was founded to "share the joy and power of reading", is to increase the literacy skills of children in order to empower their academic success by providing individually tailored one-on-one after-school tutoring, educational family support, and a community book bank, all at no cost to participants.
Working in partnership with families and the community, New Haven Reads envisions a Greater New Haven in which every child has the opportunity to master reading and increase the odds of becoming a successful adult.
New Haven Reads has 5 primary programs:
Free After-School Tutoring
Each week more than 500 students come after-school and on Saturday afternoons for one or more hours per week of one-on-one tutoring. Children are from grades 1 through 12 and attend schools in New Haven and in surrounding communities.
The Community Book Bank
Set up like a book store and containing books for both adults and children, all books in the Book Bank are free. Books are arranged by topic and include fiction and non-fiction, with topics ranging from political science, to self-help, to how-to, and everything in-between.
Pre-K and Kindergarten Program
Now in its seventh year, this program focuses on equipping students with the tools they need to succeed when they enter school. Currently 42 children attend classes twice a week at two locations. Classes are small and students receive individual attention. The Pre-Kindergarteners work on acquiring a solid foundation of basic literacy skills in preparation for Kindergarten.
SAT Prep Class
New Haven Reads offers three 6-week SAT Prep classes each year to students who are currently enrolled in and attending high school. The goal of each class is to enrich vocabulary, improve reading comprehension, review and build mathematics skills, and learn to write a successful essay.
Summer Literacy Camp
Developed for rising kindergarteners and first graders, this program helps students gain confidence and enhance their skills during the summer months, when there is a risk of academic learning loss due to the long vacation. Taught by four certified teachers, this five-week-long program uses storytelling, poetry, songs, and hands-on materials to expand the reading and language skills of our campers.
The Hi-5 High Impact Literacy Award will be directed to general operating support for New Haven Reads. The vision, responsiveness, innovation, spirit and results of their programs, deserve recognition from NewAlliance Foundation's prestigious award!
Visit New Haven Reads Website here: http://newhavenreads.org/
2014 "Hi-5" Awardee
HARTFORD PUBLIC LIBRARY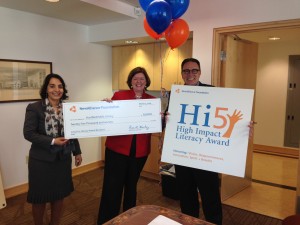 Hartford Public Library is presented with the surprise "Hi-5" High Impact Literacy Award of $25,000 from NewAlliance Foundation in support of the Library's dedication to providing access to literacy education to all Hartford residents.
The mission of the Hartford Public Library (HPL) is to provide free resources that inspire reading, guide learning, and encourage individual exploration.
Promoting literacy and significantly impacting community literacy rates is a fundamental role of the Library. With a broad definition of literacy that includes reading, writing, technology skills and critical thinking skills, the Library implements programs for early childhood and family literacy, out-of-school time educational, recreational and enrichment programs for older children and teens, a Teen Leader initiative, providing high school employment and mentoring opportunities, and adult learning programs.
In 2012, HPL created a new Summer Reading Program that increased participation by 870 percent, from 300 students in 2011 to 2,610 students. Another increase of 250 percent took place the summer of 2013 with 6,544 students participating. The Summer Reading Program is broken down into three components: The Parent/Child Summer Reading Program (birth to 5), the Youth Summer Reading Program, and the Teen Summer Reading Program.
The increase in participation was primarily due to the adoption of a plan for summer learning called The Learning Continuum, a collaborative program with the Hartford Public Schools and community-based organizations that builds a direct path to summer learning. The Library and Hartford Public Schools promoted the new program extensively and children were encouraged to register on the new Evanced Summer Reader Module, an online database for summer reading.
As a result of the Summer Reading Program, eighty-three percent of Parent/Child caregivers reported they increased the amount of time reading with children. Seventy percent of youth participants ages 6-12 and 48 percent of teen participants increased out-of-school reading.
The Hi-5 High Impact Literacy Award will be directed to the further development and impact of the Hartford Public Library's Summer Reading Program. Now entering its third year, momentum is gaining as participation continues to make increase significantly. The vision, responsiveness, innovation, spirit and results of the Summer Reading Program deserve recognition from NewAlliance Foundation's prestigious award.
2013 "Hi-5" Awardee
CONCEPTS for ADAPTIVE LEARNING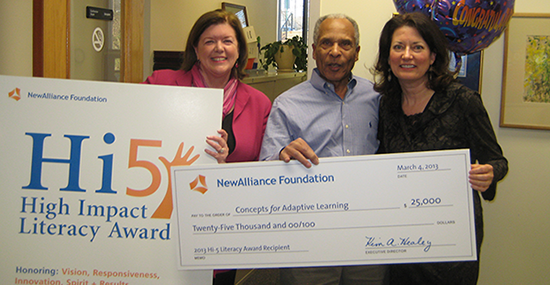 NewAlliance Foundation recognized the success of Concepts for Adaptive Learning (CfAL) in closing the digital divide with the 2013 "Hi-5" High Impact Literacy Award presented on April 17, 2013. The unsolicited $25,000 award underscores CfAL's commitment to the five attributes of the "Hi-5" Award: vision, responsiveness, innovation, spirit and results.
Concepts for Adaptive Learning is a New Haven based non-profit organization, founded in 2001, to help improve the education of disadvantaged public school children throughout the state's largest under-performing school districts. CfAL is unique in that it uses the resources of technology as the primary strategy for achieving its mission. CfAL installs computers and computer related equipment; integrates educational software in classrooms and homes; trains teachers, students and parents how to use technology; and works to eliminate the technology gap between families that have and do not have technology in the home, thereby increasing digital literacy.
Children in more than 2,500 homes have received gently used, refurbished computers so they can do their homework and access the same educational software used in their classrooms. To date, more than 2,500 families have participated.
CfAL's website: www.eachchildlearns.org/
2012 "Hi-5" Inaugural Awardee
JUNTA for PROGRESSIVE ACTION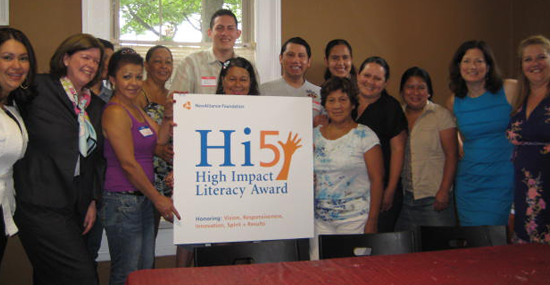 In recognition of its educational programs, including a new Basic Spanish Literacy program, the NewAlliance Foundation presented its inaugural "Hi-5" High Impact Literacy Grant of $25,000 on May 30, 2012 to JUNTA for Progressive Action, located in New Haven. The unsolicited "Hi-5" award underscores Junta's commitment to improving community literacy.
Junta is a Fair Haven based agency that was founded in 1969 as a response to the needs of the increased number of families moving to New Haven from Puerto Rico. Today, Junta seeks to empower and provide direct services to recent low-income and other vulnerable populations by offering many programs which help families transition to life in America.
Junta's literacy programing includes:
English as a Second Language:  6 levels of English classes are offered at night (childcare is included) and "Survival" level classes are offered in the mornings for students whose English proficiency is limited or nonexistent.
Spanish Basic Literacy: a pilot course which teaches reading and writing in Spanish is offered for native Spanish speakers who are unable to read and write in their native Spanish language. This course accelerates their learning in Spanish and significantly eases their transition into learning English.
Family Literacy: a partnership with the Literacy Coalition of Greater New Haven which offers a Family Read program brings students and their children together to read and to discuss specific children's books.  Parents are taught how to read and talk to their children in order to improve reading comprehension.
Health Literacy: an initiative which incorporates specific vocabulary into the curriculum and helps students learn how to discuss health issues with doctors. A bilingual health guide, What's in Your Backyard? A Guide to Health Resources in New Haven, is used as the curriculum tool for ESL and GED courses.
Junta's website: www.juntainc.org
NewAlliance Foundation's "Hi-5" High Impact Literacy Award Criteria is a follows:
Awardee must be in NAF service area;
Awardee may be an organization dedicated solely to literacy or may be a program focused on literacy within a 501(c) 3;
Must be a dedicated literacy program with proven results and impact;
May assist individuals on the age continuum;
May be focused on assisting individuals for whom English is a second language;
May help raise awareness of the issue of illiteracy;
May help inspire a love of reading among children affected by poverty;
Must demonstrate a commitment to ending illiteracy;
Awardee may be an organization addressing health, financial, digital, or other type of literacy need.