April 23, 2014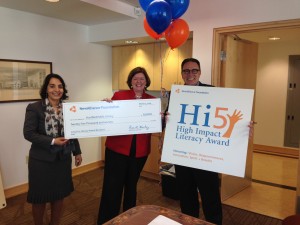 Hartford Public Library was presented with the surprise "Hi-5" High Impact Literacy Award of $25,000 from NewAlliance Foundation in support of the Library's dedication to providing access to literacy education to all Hartford residents. The "Hi-5" High Impact Literacy Award is granted annually to an organization in the NewAlliance Foundation service area that embodies the five attributes the Foundation wishes to honor in the field of literacy: vision, responsiveness, innovation, spirit and results.
"Literacy is critical to the success of Hartford's youth, adults, and the community. Our commitment to literacy is at the core of our mission, and inspires what we do here each and every day," said Matt Poland, CEO of Hartford Public Library. "We are thrilled to receive this unexpected award, which will allow us to continue to provide innovative educational programming and improve literacy skills for residents throughout the city."
"We're very impressed with Hartford Public Library's dedication to the community, and to addressing the critical gap in education and literacy services that exists for many Hartford residents," said Kim Healey, Executive Director of NewAlliance Foundation. "The programming provided by the Library makes a wide variety of learning and literacy skills available to all, and is a truly invaluable service. We're pleased to be able to support its continued innovation, vision, and results."
A segment of the NewAlliance Foundation grant making is targeted toward programs which empower people through the development of literacy skills. The Foundation created the "Hi-5 High Impact Literacy Award" to underscore its special commitment to funding the improvement of community literacy in all forms, including reading, digital, financial and health literacy. Each year, a non-profit organization, or a non-profit program or initiative working to improve any kind of literacy outcome for those in need, is eligible to receive this unsolicited grant.Hartford Public Library is the third such organization to be recognized by NewAlliance Foundation with this prestigious award.
"Hartford Public Library offers an array of literacy programs for children and adults at its nine branches and Downtown location," said Mr. Poland. "The Library's many early-literacy programs, resources and technologies provide access to the materials and skills that Hartford's youngest students need to enter school prepared to learn and achieve educational success. Each summer, thousands of Hartford students participate in the Library's Great Summer Read, the only provider of programming, encouragement and free access to literacy materials during the summer."
Ms. Healey agrees, "One attribute that determines who receives the "Hi-5" High Impact Literacy Award is responsiveness; Hartford Public Library has long been a leader in reaching out to Hartford area residents and providing much needed resources to help children maintain grade-level reading and families improve literacy skills.